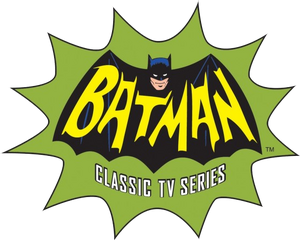 Batman (rebranded Batman: Classic TV Series in 2013) was a thirty-minute primetime, live-action television series broadcast by the ABC Network, running from January 12, 1966 to March 14, 1968. The series featured actor Adam West as the titular perennial character Batman, while Burt Ward donned nylon stockings and fairy boots for his portrayal of the erstwhile sidekick, Robin. When not fighting crime as Batman and Robin, the Dynamic Duo were often found at Wayne Manor in their respective identities as Bruce Wayne and his "youthful ward", Dick Grayson.
The show was noteworthy for its memorable use of onomatopoeia during fight scenes, narration, the Batusi, the utility belt and the Batmobile - all of which have lasted as iconic fixtures in worldwide popular culture. The classic TV series continues to attract a passionate fan base despite a long time lack of home video availability and newer gritty movie reboots.
The classic TV series took many years for an official home video release due to a legal dispute between Warner Bros. and 20th Century Fox. In 2013, the corporations formed a deal for merchandising which includes the Batman '66 comics, Mattel's Classic TV Series Batman, Hot Toys figures, calendars, apparel and more.
In November, 2014, Warner Bros. released the full, 120 episode Batman collection on Blu-ray and DVD with a variety of extras including a miniature Batmobile, a 32-page episode guide, and the Adam West Scrapbook.
Overview
[
]
Recurring characters
[
]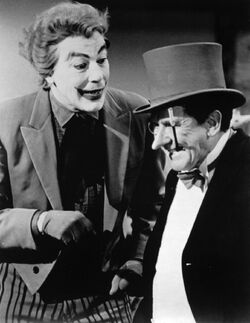 Episode list
[
]
Development
[
]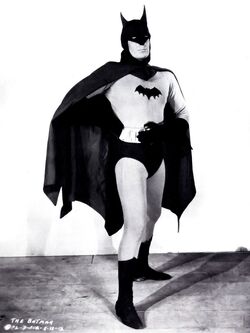 After the television rights to Batman were optioned in the early 60's, ABC executive Yale Udoff attended Playboy Club screenings of the original Batman serials from 40's. The serials featured cliffhanger endings, much like the classic TV series would later emulate. Udoff was inspired by audience's positive enthusiasm and got the ball rolling for the new Batman TV series.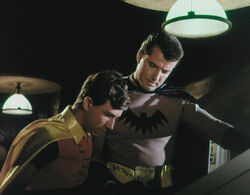 Originally novelist Eric Ambler was hired to write serious teleplay for a TV movie. Series producer William Dozier read several Batman comics and came to the conclusion that the only way to do it would be as a "pop art" comedy.
Broadcast history
[
]
For the first two seasons, Batman episodes were aired as two-part storylines, with the title of the second episode often rhyming with the title of the first episode. The Batman series was famous for showcasing various celebrity talents including: Edward G. Robinson, Jerry Lewis, Art Linkletter, Roddy McDowall, Milton Berle, Dick Clark, Steve Allen, Sammy Davis Jr., and many others.
By season three, declining ratings prompted the introduction of a third partner to the Bat Family, Barbara Gordon – aka Batgirl (played by Yvonne Craig). Although Batgirl was a popular character, her presence could not save the series, and it was canceled in 1968.
Cancelation
[
]
After the show finally ended in 1968, they thought they could show it on another network. Yvonne Craig said this in an interview: "When we were cancelled by ABC, they wondered if we could get on another network. When it looked like we couldn't, they came with a bulldozer and bulldozed the whole set--The Batcave and all of that.
"Then, two weeks later, NBC said, 'Listen, we'd like to take a shot at "Batman", if you still have the set'. They didn't want to start from scratch and build them because the set cost $8000,000. So it was too late and nothing came of it." The delay doomed the television show, but by 1969 the networks showed the first reruns of the television episodes, and continue to this day.
Videos
[
]
References
[
]
External links
[
]