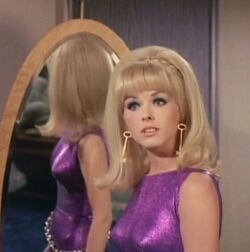 Cornelia was one of the Joker's women.
Background
Edit
She appeared in the second season two-part episode Impractical Joker and The Joker's Provokers. She was played by Kathy Kersh.
Kathy Kersh was married to Burt Ward from 1967 to 1969. They first met on the set of this episode. She was previously married to Vince Edwards ("Ben Casey"). Kathy Kersh was born on December 15, 1942 in Los Angeles, California as Kathleen Kroeger Kersh. She is known for The Americanization of Emily (1964), Gemini Affair (1975) and The Beverly Hillbillies (1962).