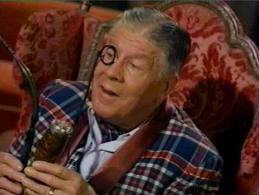 "I haven't the foggiest notion, Batman."
―Lord Marmaduke Ffogg
Lord Marmaduke Ffogg is the lord of Ffogg Place in Fogshire not too far from Londinium. He and his sister Lady Penelope Peasoup own Ffogg Place and use it as a boarding school for girls, which in fact is a cover for a school for girl criminals.
Weapons and Equipment
Edit
Known Associates
Edit
Appearances
Edit
Season Three
Edit
Memorable Quotes
Edit
"No man has ever been more fogbound, than Batman is at this very moment."
―Lord Ffogg
Behind the Scenes
Edit
was portrayed by Vaudeville actor Rudy Vallee in Batman